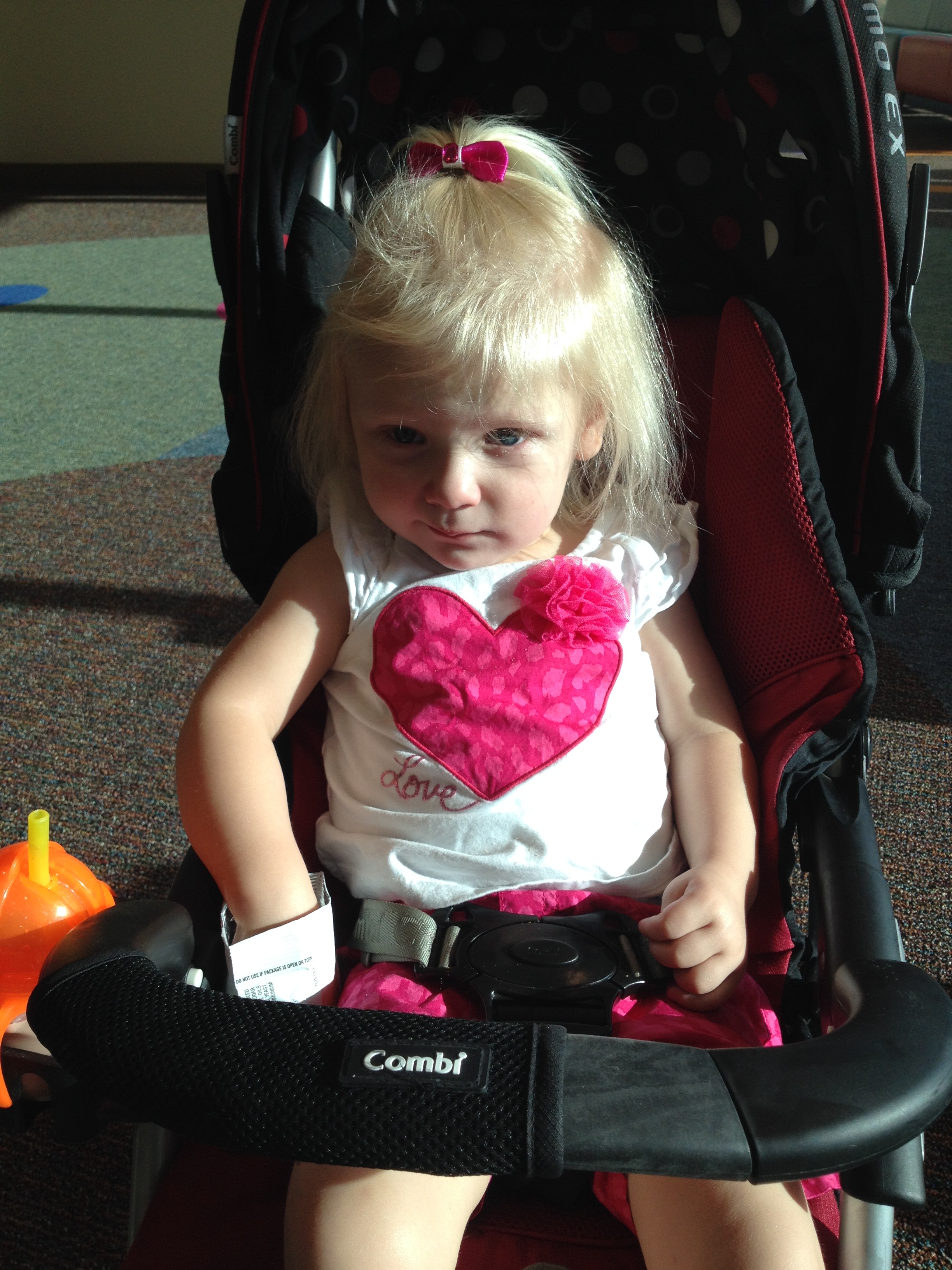 Thanks to Grandma Alt for taking Emma to get blood drawn Wednesday morning.
Well it is official, Emma has begun her third chemo since this all began back in January last year. This time through Emma is taking a combination of the two drugs Zortress and Afinitor. The doctors refer to this as Evoralimus but in short it is a mTOR inhibitor and is considered to be exciting in the world of pediatric brain tumors. Still not sure we know what we are doing with the new medicine, as it is administered by Kathryn and I at home every morning. We are currently trying to purchase supplies so that we don't have to wash the chemotherapy in our sink after we are done every day. Based on the hazardous bags that the medicine came in and the outfits that the nurses wear at the hospital, we aren't comfortable exposing everyone in the family to the medicine that Emma has to take. Thus we are in the process of ordering 60 ml syringes and cups that are used in the process of administering the drugs. It is an interesting experience to call stores in Omaha asking if they will sell you the syringes and them replying that they have to save some of their stock for equine purposes. Hopefully we can find somewhere online that is willing to sell the syringes by the 100 instead of the quantity of 10 that Omaha has to offer. If you are wondering citizens are not allowed to call BD and order syringes as you have to be a wholesaler or retailer in order to purchase from them. I guess that makes sense though.
After two days of giving Emma the medicine she seems a little out of sorts and hasn't been very happy the past two days. Hopefully she adjusts to the new medicine and she tolerates it as well as the previous medicine.
I want to apologize to anyone that tried to sign up for the golf tournament this morning as somehow all the links got changed on the page. Thanks to my cousin Tania, I got them changed before it created too much of an issue. On that note, I will need to be contacting Markel Automotive and Tiburon on Monday to inform them how many golfers we will be having for the tournament. We are getting closer to my initial goal of golfers at 100 but if we can add a couple teams over the weekend that would be wonderful. Thanks to all of you that have already signed up and if you are interested in just hanging out and eating after the golf, Dinner only options are available on the website as well. Let me know if you want to do this over the weekend as well, since I need to tell Tiburon how much food to prepare as well.
Kathryn and I got all of the t-shirt orders organized and shipped last night so those of you that placed orders can expect them in the mail within a couple days. Thanks for all of your support through the "Go Gray" in May push. We look forward to shipping many more t-shirts out in the coming weeks as they turned out really good. We have already sold all of the youth extra-small and youth small shirts but we have more being printed very soon and will get them out to you. This will be the last order of smaller sizes so they are limited to the next ten or so orders of each size of the smaller sizes. Can't wait to see pictures on social media in the coming days.
Also if you aren't in to golfing or t-shirts, we would love to see everyone out in Kearney at the "Emma's Fun 5K Run/Walk" check out the facebook page for this event if you are interested. https://www.facebook.com/EmmasFun5kRunWalk