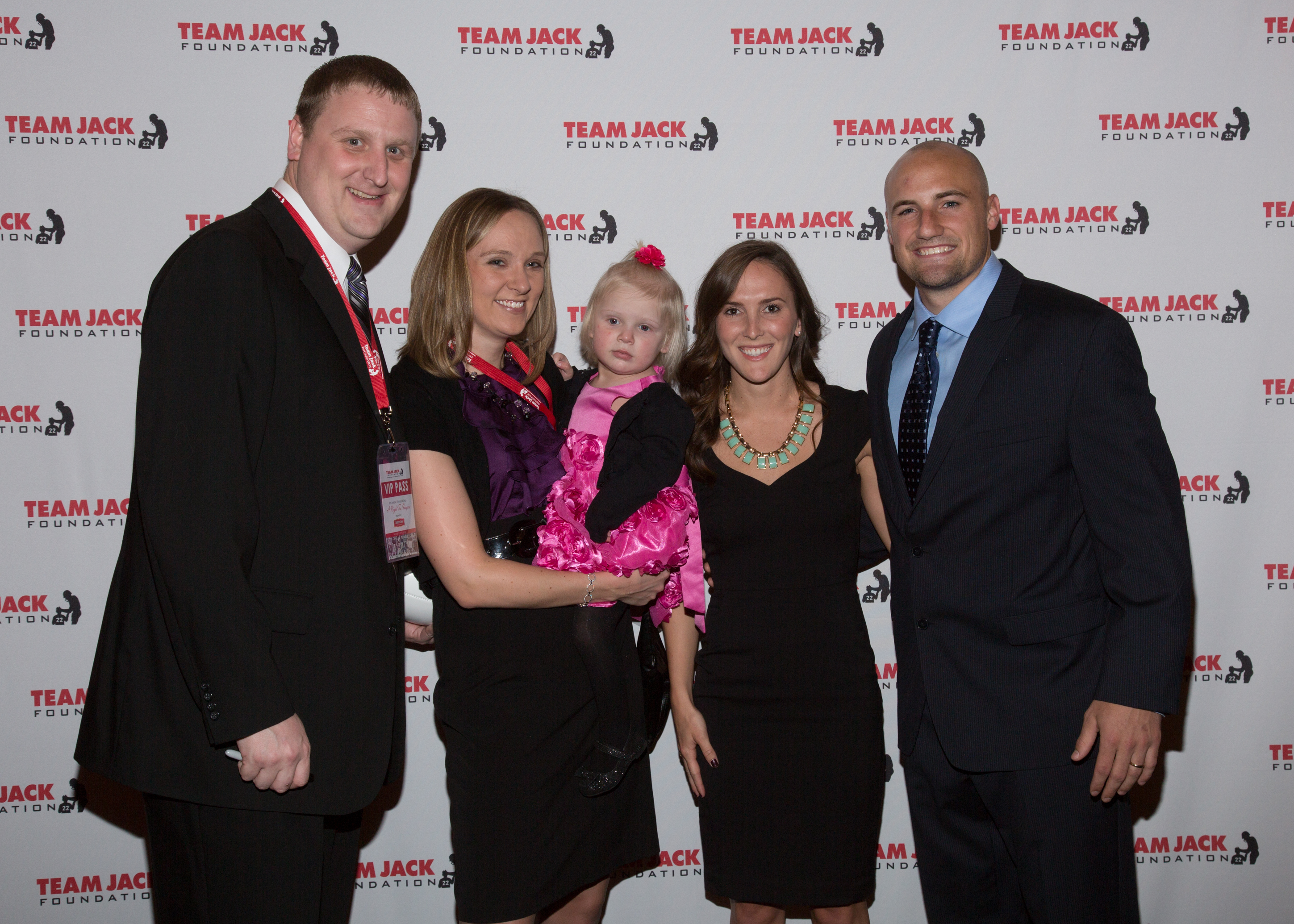 Picture above R to L (Brent, Kathryn, Emma, Danielle Burkhead and Rex Burkhead)
We have had another eventful week here with Miss Emma. We were so lucky to be able to attend the Team Jack Gala last weekend in Lincoln to help raise awareness for pediatric brain tumors. What an awesome event that Team Jack put on! We had a wonderful time at the event and it was so incredible to see how the state of Nebraska has rallied around Team Jack's movement to support pediatric brain cancer research. We were lucky enough to spend some time in the VIP room before the event and had the opportunity to meet several of the supporters of the event as well as many of the athletes who support Team Jack. I cannot say enough about what great people these athletes are. I continue to be so impressed with the kindness and character of both current and former athletes of the University of Nebraska. None of them had to come to the event, but instead so kindly gave of their time to be there and are always so kind to all of the kids and families.
Emma's neurosurgeon from Boston, Dr. Goumnerova, was also there. She was one of the honored guests and speakers at the event, so we enjoyed talking with her and were so happy she could make the trip to Lincoln. We also had a great time connecting with other families who have children currently fighting this horrible disease and who have lost their children to a brain tumor. Team Kallie from Sioux Falls, South Dakota was there. We visited Kallie when she was receiving treatments in Boston this fall and were so excited to see her again and see what great progress she has made. It was nice talking with other families that we had met this fall at the football game. Emma's favorite part of the night was playing with Jack, his sisters and the Husker cheerleaders!! It was a very emotional night. We feel so blessed to have been able to be a part of the evening and do our part to help raise awareness and funds to help find a cure for these kids. I was amazed by the generosity and support of so many people across the state. Together we can and WILL find a cure! I would encourage you to check out the event next year, it was a wonderful event for a great cause that is very close to our hearts!
Kathryn was lucky enough to be on spring break this last week and enjoyed spending time with Aiden and Emma! Emma was scheduled for chemo on Tuesday last week, but unfortunately things didn't quite go as planned. Emma's blood counts came back looking good; however, the protein in her urine was at 300. The highest it had been before was 100, so it was a significant jump. She has had protein in her urine for several months now, but we were hoping it would stay at a more manageable number. This is a side effect of her Avastin so we have known this is a possibility. For those of you unsure of why this is an issue, the increase in levels of protein in urine are a sign for issues with her kidneys. Because of this, Dr. Abromowitch felt it was too dangerous to give her the Avastin on Tuesday so she only received her Irinotecan. Dr. A. said that a lot of times kids need a break from the Avastin and that helps the protein in their urine level back out, so she suggested we take last week off and then have Emma do a urine analysis the next week. So the plan is to have a urine analysis done tomorrow and see if there has been any change in the numbers. If the protein number has come down a little then we will wait another week and hope it stays down so she can have chemo on the 25th. However, if the number is still high, they will have to run more tests. It sounds like they would probably do a 24 hour urine analysis (which is probably an admission to the hospital) and possibly some other kidney function tests. We are praying that the numbers have come down tomorrow so Emma can continue with these treatments. If the numbers don't come down we might possibly need to look at discontinuing this treatment and starting another new one. It breaks my heart to think we may have to do that. This treatment is working and keeping the tumor stable, and Emma is tolerating it so well. It just doesn't seem right to have to change again and then have to look at treatments that would require a G-tube for oral meds and another set of side effects. We are praying like crazy for good news tomorrow. If you have time please say a few extra prayers for Emma, and that the counts look better tomorrow. Thank you so much for your continued support!!!
Hopefully within a week we will have documents available to begin signing people up for the EmmaStrong Golf Tournament on May 24th. Hope to see you all there. See EmmaStrong.com for information then.