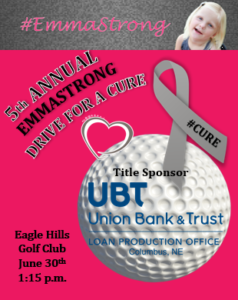 I don't know where the last two months have gone, but they have flown by. We have enjoyed every day of the last two months since scans, and are so thankful for this time off of treatment. However, it is time to head back to Boston for scans again this week. After Emma's last scans our doctors decided they only wanted to wait two months to scan this time, so here we are getting ready to head back tomorrow.
Emma has been doing well and just enjoying normal everyday life. She loves going to school, and she has been getting stronger and her walking has been improving again. We have had some issues again recently with recurring UTI's, which has been frustrating so we are hoping the antibiotic she is on now will finally clear things up.  Thank you to countless medical and pharmaceutical staff across Omaha for saving Emma a 10 day hospital stay for antibiotics by coming up with another option.  It is a scary feeling to think all of the travel arrangements and appointments might need rescheduled.  Oral antibiotics at home and Boston is much easier than hospital stays.
We of course are feeling the anxiety of this week's scans. We are thankful for the stable scans in January, but are now nervous about what these scans will show since we have been off of treatment. We are trying to stay calm and praying that this weeks scans will be good news. We fly out tomorrow afternoon and have appointments Tuesday, Wednesday and Thursday. This trip we will see ophthalmology, endocrinology, neurology and oncology. Emma is scheduled for a bone density scan and blood work ups for endocrinology and then we will have her MRI scans on Wednesday. You all are always so amazing about praying for Emma on these days, which we know makes such a big difference.  We would be thankful for any extra prayers for our sweet girl this week.
We are so incredibly thankful to the Papillion-La Vista South National Honor Society for hosting the EmmaStrong movie night in February. The kids did a great job of organizing this event. It was such a fun evening for everyone who attended. We are also so very thankful for the many people from the community who attended and so generous made donations. We were happy to accept a $4, 125 donation from the National Honor Society, which will be used to help fund research for pediatric brain tumors. We want to extend a special thanks for these students for organizing this event and to everyone who attended. We continued to be humbled by the support of our community here.
We have also been busy working on getting things up and running for the 5th Annual EmmaStrong Drive for a Cure on June 30th at Eagle Hills golf course in Papillion. The forms for registration, hole sponsorship, and volunteer opportunities are now live here. We are so excited to start getting this event put together again and look forward to another fun day of raising awareness and funding for pediatric brain tumors. Please go check out the information about the event. We would love to see you there!  Get your registrations and sponsorship in soon and as always we can always use volunteers.
Thank you for all of your continued prayers and support! We will try to get the website updated Wednesday night with the results of the scans.