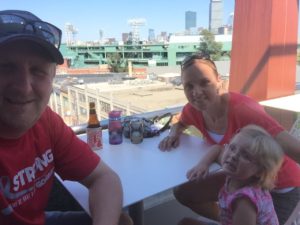 It has been quite some time since we have updated on the website about how Emma is doing, so I feel like there is lots to talk about! Emma has been doing really well and we are enjoying summertime and all the fun that comes with it. We are loving having time to do the zoo, parks, pool, and anything else fun we can find to do. I am so happy to have this time to enjoy and relax with the kids.
At the end of May Emma finished Kindergarten and turned 6 the day after school got out. Emma absolutely loved Kindergarten! We are incredibly thankful to all of her teachers, paras and friends at Walnut Creek who helped to make this year such a great year for her. Emma made lots of progress in many areas and loved getting to go to school and be with her friends everyday. She has some very special and wonderful friends from school and we are so thankful for them and the wonderful staff at Walnut Creek that make it such a great place for kids to be.
It seems crazy to me that Emma could really be 6 and finished with Kindergarten, but we are so incredibly thankful to see her meet both of those accomplishments. It is almost crazy to think of everything she has experienced and endured in just 6 years, but she continues to show us everyday what life is all about. Despite all that she has been through, Emma is a happy little girl who loves her family, school and all things that have to do with dolls and playing kitchen. To see her happiness and excitement about life, gives us such perspective on what is important in life. We are just continually amazed by our sweet girl. Many of you have followed Emma's story since she was only 7 months old, and we thank you for all of the prayers that have helped us to get her to this point.
As I write this post, we are sitting on the deck at our hotel in Boston overlooking Fenway Park, which means it is once again scan time. I don't know how these three months flew by so fast, but they did and here we are again. We have a busy few days of appointments with ophthalmology, endocrinology, dermatology, neurology, and oncology. We do scans on Wednesday morning and then we will meet with Dr. Chi Wednesday afternoon and get the results. Emma has been doing great from what we can tell, but Wednesday will be the real test to see how she is. As always our stomachs are twisted up in knots and we aren't sleeping the best as the anxiety continues to build for us. We continue to pray that we will receive good news that things are stable. We would as always greatly appreciate a few extra prayers Wednesday for Emma as we await results. Your prayers and support are what gets us through these hard days.
As many of you know, we held the 5th annual EmmaStrong "Drive for a Cure" golf tournament on June 30th. This year's title sponsor was Union Bank Ag Loan Office, Columbus, and the meal was sponsored by Hy-Vee Papillion. We had so many amazing sponsors this year, and we are so thankful to all of them. While it was a bit hotter than we would have liked, we are so happy with the outcome of the tournament. We had 152 golfers this year, and we are so happy they could all join us this year. We just hope they survived the heat! We were so excited to be able to do a golf ball drop from a helicopter this year. This was made possible by one of our sponsors, Midwest Medical Transport. They graciously brought one of their helicopters to the tournament, and we sold 1,361 golf balls for the chance to win $1,000. It was such an amazing moment to watch, and we are so incredibly thankful to Midwest Medical everyone who bought golf balls for helping to make this happened. At this year's tournament we were able to profit more than we have grossed in any of our other tournaments. This is because of the many amazing business sponsors, child sponsors, people who donated items for the auction, people who bought golf balls, the golfers and everyone who attended. We are still waiting on a few bills, but are estimating that we profited around $28, 000 this year. Our hearts are so full of gratitude to everyone who helped to make this possible. We plan to use the money raised to make a donation to UNMC's new pediatric brain tumor program, which will allow kids fighting this disease in Nebraska and the surrounding areas access to the specialized care that they need. We can never begin to put into words how thankful we are to everyone who has helped to make the golf tournament a success. For us, doing the golf tournament and raising money to help fight this disease is how we can help to make treatments and care better for other families who may receive the same devastating diagnosis we did. We are humbled by the outpouring of support and love and friends and families give us which helps to make this possible, so thank you to everyone who played a part in making the golf tournament a success this year!
Thank you to everyone for your continued prayers and support! We will try to get another update done Wednesday night to let you all know how scans went.