Well here we are again…packing and getting ready to go back to Boston for scans. The last three months since the last scans have been really hard. The somewhat inconclusive results from the last scans have left us worrying more and more all of the time. Every little thing that Emma does makes us wonder if it is the tumor or just her being a two year old.
It feels as if the scanxiety surrounding these scans in worse than it has been for awhile. I think in July we knew things weren't going to be bad and so we were prepared for the bad news, but this time Emma is doing really well so we don't know what the scans will show.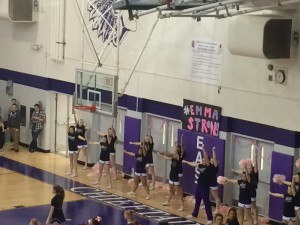 We fly out Tuesday and have a full day of scans and appointments on Wednesday. We are praying like crazy that Emma's scans are stable and that this chemotherapy has been doing its job. Unfortunately, we know there are no guarantees that it has and that we need to prepare ourselves for the fact that if the chemo really wasn't working last time that the scans are not going to be good. If that is the case we are going to have some big decisions to make about what and where we go next for treatments. It makes me physically sick knowing that in a few days we may be have to make awful decisions like that again. At times like this the weight of this awful disease weighs so heavy on our shoulders.
Not only are we not looking forward to doing scans, we really aren't too excited about a trip to Boston right now as it seems they are buried in snow. Right now it looks like they are going to get more snow Tuesday, so we are hoping and praying we can get there, and once we get there we hope we can get around enough to get to the hospital. It sounds like it is going to be quite the sight to see.
The good news is that Emma has been doing really well. She has seemed to feel good the last few weeks and continues to make progress at therapy. We are hoping we can continue this treatment because she seems to be doing so well on it.
We would like to thank our friends at Bellevue East who so kindly organized an Emma Strong night at the basketball game last weekend against Papillion-La Vista High School. They had new shirts made that both teams wore for warm-ups, and a raffle. It was such a humbling evening to see all of the support from friends and those we don't even know. We can't thank the Bellevue East and Papillion-La Vista High communities enough for the amazing support. There is also a Polish Horse Shoe tournament in the plans April 18th in Columbus.  We would love to see you all there.  It is truly amazing how kind and generous so many people are. We are so thankful for the acts of kindness like this that have been shown to us throughout this journey.
As we get ready to head to Boston and scan this week, we would ask that if our Emma Strong prayer warriors have a few extra minutes this week we could use a few extra prayers. This week will surely be a tough one, but your prayers and support help us to get through it more than you know. Thank you for walking with us on this journey, for all of your prayers and support and for helping to keep us Emma Strong!!!