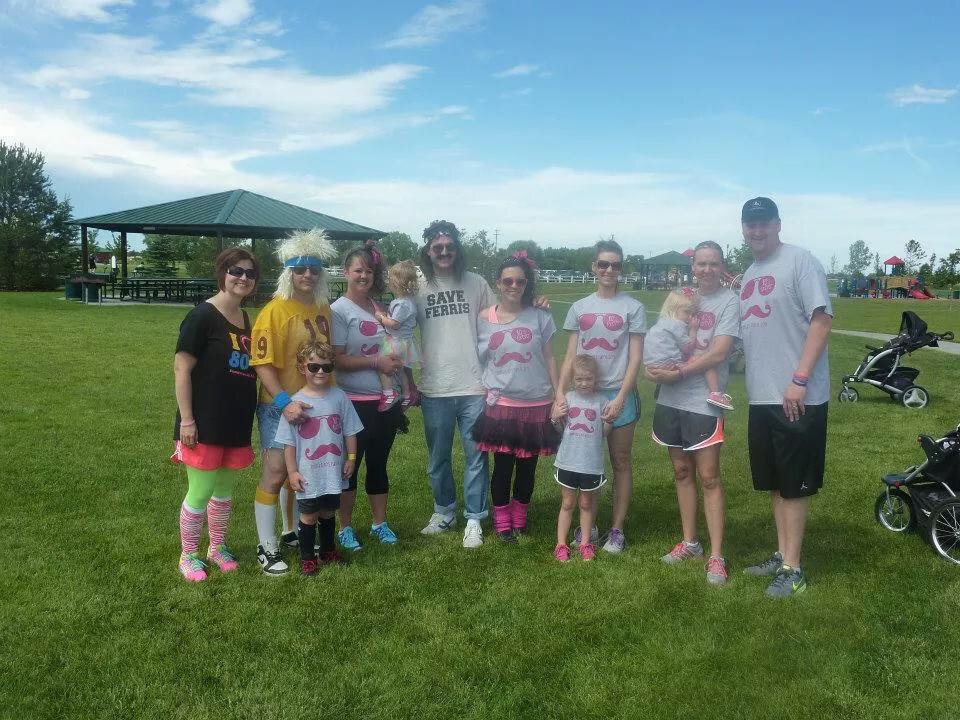 (Picture with our friends our organized Emma's Fun 80's 5K Run/Walk in Kearney)
Well, it is that time again…time for another MRI scan. I don't know how three months can go by so quickly, but it has. Scan time is always a stressful time for us. We are busy packing today, because we fly out to Boston tomorrow. Emma has her MRI scans on Wednesday morning and then we will see her doctors in clinic that afternoon. We are taking Haley, Emma's babysitter, with us and Aiden too this time. We are hoping for ok news so that we can enjoy a few days in Boston and then take the train to New York City and spend a few days there before flying home.
I hate how anxious and nervous I feel every time we have scans. You would think it would get easier, but it never seems to be that way. I'm very nervous about what the scans will look like since she has only been on this chemo two months, and even more nervous about what they are going to say about all of her setbacks in development that last few months. It seems as if her motor development has been at a bit of a stand still the last few months. I pray that it isn't due to the tumor growing, and that it is just a result of all of the other things Emma has had going on.
Since our last update, Emma has recovered well fro all of her minor surgeries in June. The port incisions were sore for awhile, but it has all healed up well. Her toe where they removed the ingrown toenail from, looks great and doesn't seem to be bothering her anymore thankfully. Her eyes have been doing pretty good too. We don't notice her eye wondering much to the outside anymore, but that could be just the botox. We will have to wait a few more weeks to see if it worked like it should. Her eyes do cross from time to time, especially when she is tired, but it doesn't seem to bother her much. After her surgeries, our doctor called and said the x-rays they did on her left leg were clean, but there was some swelling. So we went to see the orthopedic surgeons and they couldn't decide what was wrong so they put Emma in a waling boot for two weeks. She has tolerated having it on very well. After two weeks in the boot it didn't seem like her foot/leg was feeling much better so they did another set of x-rays which showed that she had a stress fracture of her left calcaneous bone (heel bone). We were thankful to find a reason for her pain that wasn't tumor related. The doctor felt that Emma's bone density is probably decreased from the chemo therapy so something as simple as walking or kicking her foot on the floor could have caused it. This however earned Emma another 3-4 weeks in the boot. In the last week we have noticed that when sitting on the floor she now leans back and pulls her right leg up and has been whining a lot and acting like something is bothering her. The doctors aren't sure what is going on, but are guessing that she has over compensated because of the big, bulky boot and not has some other muscle bothering her.
We are incredibly thankful to our friends Matt and Casey Kenny and Ryan and Megan Smith from Kearney who organized the 80's 5K run/walk for Emma in Kearney on June 21st. The 5k went very well and as always we were overwhelmed by the continued support of so many people. We thank each and every person who came out to the event to help support our family and fight for a cure. We owe a very special thank you to the Kennys and Smiths for all of their hard work. We are so incredibly blessed to have such great friends! We had a great time catching up with and spending time with great friends that weekend.
Thank you to everyone for your continued support. While we are very nervous for scans this week, we are praying for stable results and answers to many of the questions we have about Miss Emma. These weeks are never easy, but we have faith that God is with us and will he will take care of our sweet girl. If you have some extra time Wednesday we could use a few extra prayers for Emma. Our prayer warriors always give us strength on these tough days. We will update you again from Boston. Emma Strong!!