I'm sorry that this update is so long over due! We have been meaning to sit and do this for weeks, but the time has just gotten away from us. Thank you for all of your continued thoughts and prayers. We wish we weren't sitting in the hospital while I write this because Emma has really had a great five weeks other than the last few days.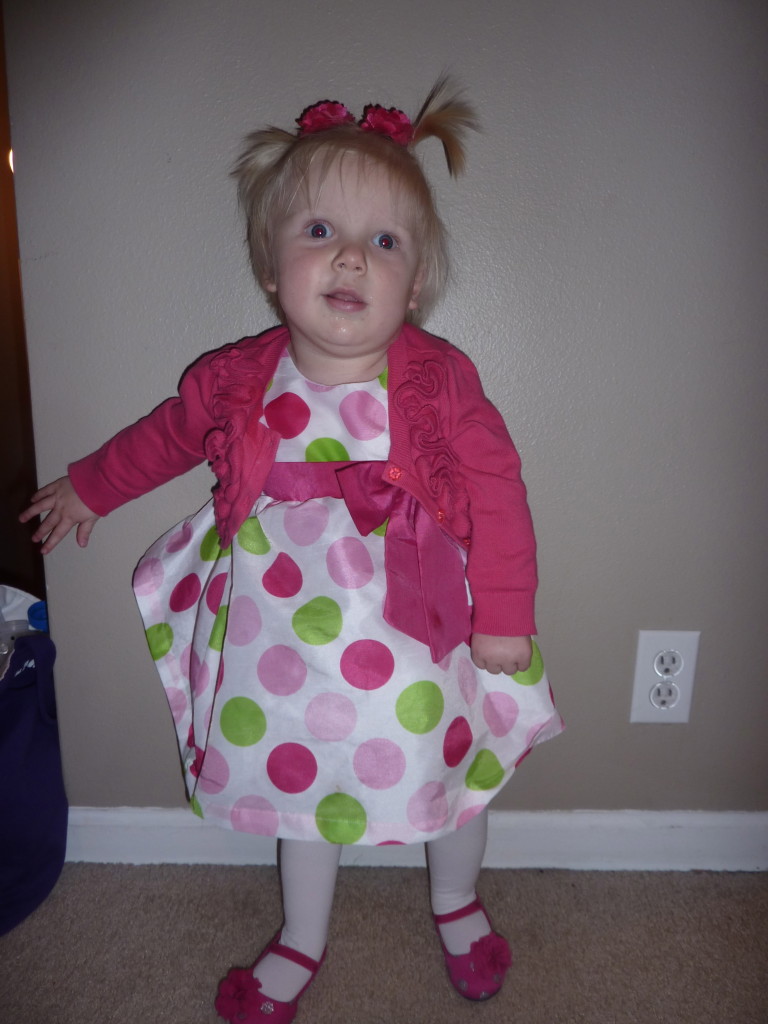 Emma has felt good since we got back from Boston and has continued to make nice progress in therapy. Her therapists have ordered her a walker and a new splint for her hand to help keep her hand open better when she is trying to crawl. Emma is doing a really nice job of walking when you hold her hands and we are really excited for her to get her walker. We are hoping it will help to be able to move a little more independently. Emma has also started to pull herself across the floor with a modified crawl, which is super exciting because she can play and move more independently. Her brother Aiden isn't quite as excited as we are that she is moving more, because she likes to get his toys. Emma's language and speech have also continued to grow and she is making more sounds and has added some new words this month, which makes Mommy very happy. It seems like she has really grown up the last two months and is becoming more of a toddler than baby.
Emma has continued with her chemo and has done pretty well with it. She has started to have a few more side effects from it, but she continues to take it all in stride. She has been having more diarrhea which has made for some issues with a sore bottom. She is not a fan of her Immodium she is supposed to take so we are started to see a little bit more attitude from her when she has take medicine. I guess she has some normal 18 month behavior in there after all.
We really enjoyed being able to just be home and try to have some normalcy in our lives for a few weeks. It was a nice treat. Emma had a great Halloween and made a very cute Rapunzel. We also enjoyed a nice Thanksgiving with family. We had a small Thanksgiving at our house with Brent's parents and then we went to Des Moines on Saturday of Thanksgiving weekend for his extended family Gehring Christmas. It was a great weekend with family. I really wanted to get this post written before Thanksgiving, but since I didn't get that done I will still share what I wanted to. The Thanksgiving season is a time to reflect on things we are thankful for, and although this has been a very difficult year for us, we have so many things to be thankful for. In fact I think the list could go on for ever. We are most thankful for our sweet Emma and her fighting spirit and the ever exciting Aiden. We are also so incredibly blessed by the amount of support, prayers, and help that so many people have given us this year. People have helped us in so many different ways, I couldn't even begin to list them all. Please know that we are thankful for each and every one of you who have prayed for Emma and given us your support in any way you could. It means more to us than you know and we couldn't have made it this far with out all of that support. We are so thankful for all of you!!
As good as the month of November was, Emma has decided to start December off on a little bit different note. Emma started having diarrhea last Saturday when we went to Des Moines and hasn't been eating and drinking as well either. We had a rough trip there and ended up coming back early, but she seemed to be perking up on Monday. So we took her in for chemo on Tuesday. The doctors thought her counts were fine, and that her symptoms were improving so decided to go ahead with chemo. Emma's urine analysis came back Tuesday saying that the protein in her urine was at 100, which is a significant increase. We were very worried about this because it is a side effect of the Avastin and if the protein in her urine becomes too high we will have to stop this treatment. Our doctor wasn't in clinic this week, so the doctor we saw didn't want to worry too much about it yet, but I was very worried. I spent a lot of time Tuesday worrying that we may have to stop the treatment, which Emma is doing so well on. Brent had been sick Tuesday too, which made things even more crazy. After chemo Tuesday Emma refused to eat and wouldn't drink her bottle that night either. Then she threw up in the middle of the night. Emma continued to refuse to eat and drink on Wednesday and hadn't had a wet diaper all day, so they had us bring her in and they ran fluids for a few hours. The fluids perked her up and she ate a little bit so they sent us home. She woke up Thursday and seemed a little better, but continued to struggle with her eating and drinking. After having 5 more dirty diapers and throwing up 3 times that day, it earned her an direct admit to the hospital. We hadn't been in the hospital since August. Emma was happy to see some of her favorite nurses, but we sure wish it were for a different reason. They ran fluids all night Thursday night, and she got about 20 ounces from them and she still barely had a wet diaper. Miss Emma was evidently more dehydrated than we all thought. The fluids have helped and she has started eating some solids again, but still isn't wanting to drink much. She hasn't thrown up since we have been here, but we are still having quite a few loose dirty diapers. She also had a brief fever last night, so at this point they aren't sure what is going on. They think she probably has a GI virus and is just having a hard time fighting it off, but since she still isn't drinking enough we will probably be here until she does. We talked with Dr. A. yesterday and she said she thinks the higher amount of protein in her urine could be related to the GI virus and that she may have already been dehydrated on Tuesday causing the number to be higher. She said you typically don't see that high of number after this short of time on the treatment. She also said that the rest of counts look good, so we will just have to wait and see if the protein in her urine levels out as she starts feeling better. Hopefully this will be the case. We are hoping our sweet little girl's spunky personality starts coming back soon and she starts drinking again so we can go home.
Thank you again for all of your continued support and prayers! It means so much to us. We have you all had a blessed Thanksgiving and are enjoying the Christmas season!!