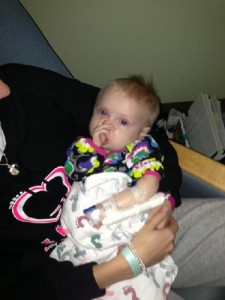 Most of you are probably waiting for me to share with everyone what we found out with the MRI. Well, we are still waiting also. Emma got to head into the MRI a little early since the person ahead of her didn't show up. Not sure how you skip an MRI it's not like a haircut appointment, but ohh well.
Emma came out of the MRI around 8:20 and we have been sitting here waiting since then. We did finally hear around 11:00 that a neurosurgeon from Omaha, that we had never heard of is waiting to talk to Dr. Goumnerova about how to proceed. Because of this we are waiting to be dismissed because they don't want to take out the IV if she will be having surgery soon.
We were supposed to have an appointment with our oncologist at 1:00 but will obviously not be ready for that now. Really hoping we can feed her and find out what is exactly wrong with my baby girl sometime soon. We will let you know shortly after we find out. Thanks for the prayers.
As for those heading to www.emmastrong.com for updates. Emma's tech staff, or as they like to be referred to "Agents" are working on a feature that will allow you to leave your email address for updates as well as an efficient way to make comments. We love reading them. Especially when we are sitting in the hospital waiting on info.
Hopefully we will get to see everyone at the spaghetti feed on Sunday at Cascio's 12:00-4:00. Can't wait to see our friends and family.
Also we are looking for extra prayers for Emma's great uncle Marv who is patiently waiting to go through a heart surgery soon and for the family of Calvin Dean Curtis as they go through a difficult time of loss.