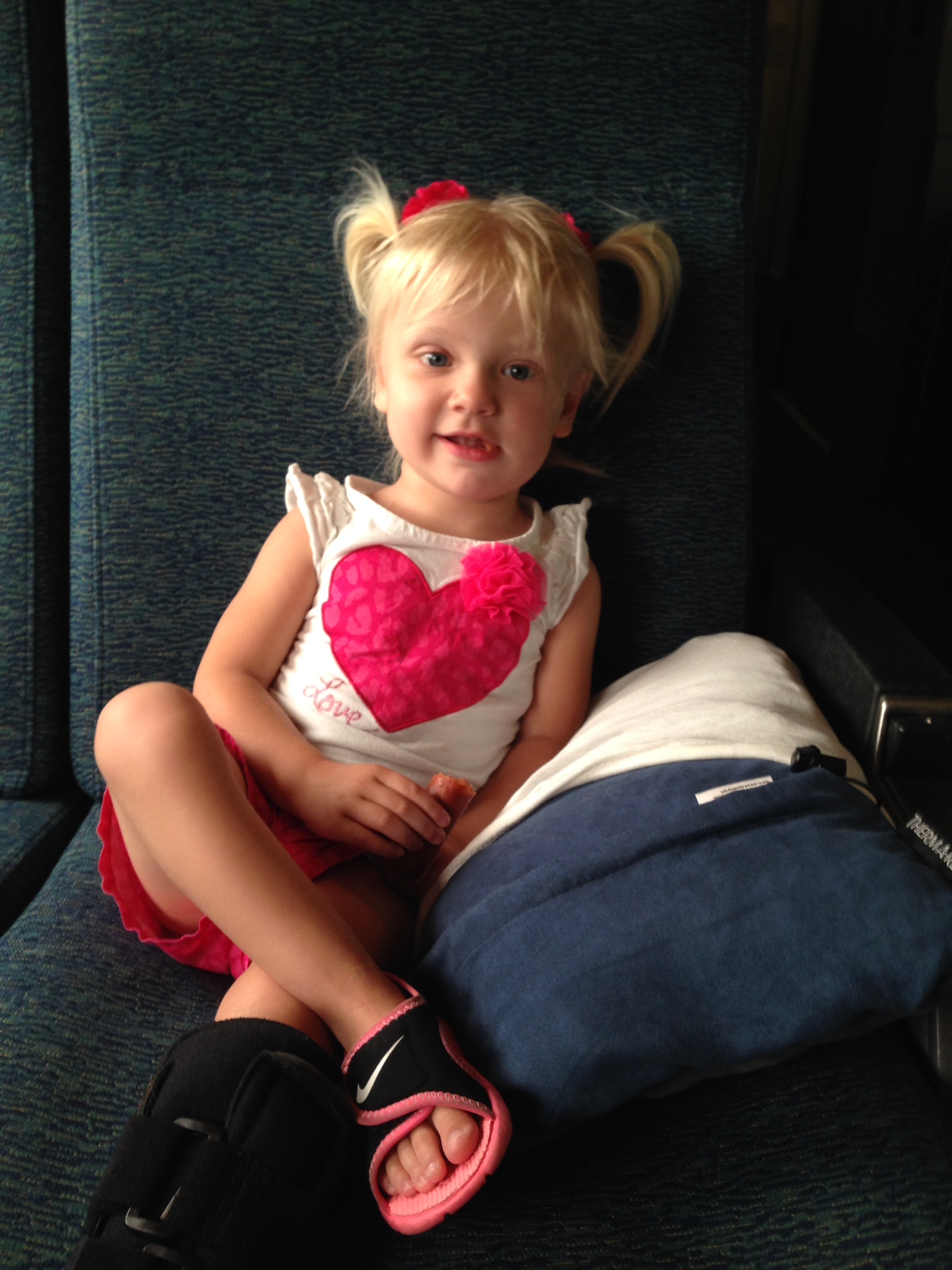 We are back in Boston…a little sooner than we had wanted, but we are here and ready for surgery. We made it to Boston safely on Thursday without any troubles, and Emma traveled well as she always does. We had Emma's pre-op appointments on Friday morning and everything went well with those. Dr. G. was still on vacation Friday, but it sounds like what we thought surgery would be. They are planning to do a VP shunt placement. After about two hours of appointments with doctors and blood draws we finished up at the hospital and were able to go and enjoy the beautiful weather here in Boston. Emma's surgery is scheduled for 7:30 Monday morning, which means we will need to be there by 6:00. With the east coast time change, that should make for an early morning!!
We were excited to get to eat at Union Oyster House last night and see our friends Jenn, Patsy, and Nicole that work there. It was such a small world how we connected with them when we were eating there once. They have been so kind to us at Union Oyster House and we always love visiting and catching up with everyone while we are in town. They take such good care of us and we feel so blessed to have some friendly faces to see while we are here. It is very true that everybody comes into your life for a reason, and they certainly came in to ours for one.
As much as I would love to say we are out enjoying the weekend here in Boston, that isn't the case. Emma has had a very rough day or two. The side effects of the hydrocephalus have continued to worsen. Emma's balance is so poor that she struggles to sit without support, won't scoot anymore, and doesn't even really want to play. She has been sleeping a lot more, but her sleep is never very restful. We went out to eat lunch today, and thought maybe some McDonald's would cheer up Miss Emma, but she refused to eat that too. While we were sitting there at the McDonald's she threw up every where, and scared her parents to death…again. One of the signs that the hydrocephalus is becoming more critical is throwing up and being very lethargic and hard to wake. So we left McDonald's and called the hospital. The doctor on-call said that these symptoms are related to the pressure from the fluid, but since she is not yet throwing up continuously and is still awake and interacting when she is awake we are not yet to the point of needing to an emergency surgery. They told us to keep a very close eye on her and if anything changes to call them back and they would look at her. Emma has been uncomfortable today and seems to be in some pain. Luckily she hasn't thrown up again. So we are taking it pretty easy today and praying that everything stays ok until surgery on Monday morning. It so incredibly heartbreaking and difficult to watch her hurt and struggle like this. It is so scary to not know if she is ok and we feel so helpless to make things better for her. We just keep praying that she will be comfortable until Monday and that surgery will help to make all of this better for her.
We are missing our Aiden like crazy already, but it sounds like he is having a great time back home with his grandparents. Emma (and mom and dad) are excited for Papa Alt to fly in to Boston tomorrow. He is so kindly coming to keep us company during surgery and for a few days after. It will be nice to have someone else around for a few days.
Please keep our little Emma in your prayers, she could use a few extra prayers of strength and healing right now. Thanks so much for your continued support!