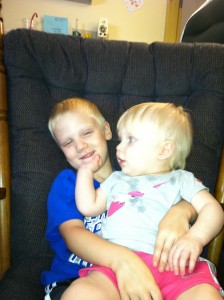 Emma has settled in to life at Madonna and is now in the routine and doing well. She will have been at Madonna for two weeks on Wednesday. The therapist feel that she would benefit from a 4 week stay, so instead of going home this week we will be staying for two more weeks. It sounds like they will be discharging her on July 12th and then we will leave for Boston the next week. Summer is going to have flown by and we won't know what happened!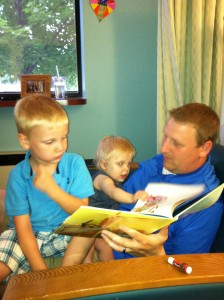 Emma has long, hard days of therapy each day, but they finally have her on a good schedule and she is doing well. She has an hour of PT, an hour OT, and an hour of Speech therapy each day. The sessions are broken in to half hour sessions, so she has six sessions a day. She has been working on standing, some walking, weight bearing on her left arm and leg, getting up on all fours, language development and using her sippy cup better. The PT has fitted her in AFO's which help to give her more support when standing and seem to help her. She has also had her up in walkers trying to work on initiating steps. The OT has been doing some work with e-stem to activate her arm and hand muscles more. All of the therapists tell us she is making progress. It seems she has made some small gains in her strength, but at times the progress is slow and hard to see for Brent and I. Emma is finally making it through her therapy sessions without crying the whole time, which makes it a little easier on us. The nurses and therapists have been commenting on how good she is looking this week and how happy she seems. I guess she is finally back to her self after the chemo and is showing us again just what a charmer she can be when she feels good. The days here at Madonna are long for Brent and I, and we continue to hope and pray that the therapy will be a benefit for Emma and result in some noticeable gains. Even after a month here, she will have a lot of work to do and areas she will need to continue to develop to try and get her developmental skills closer to age-level. The continual driving and back and forth and having little time when we can all be together as a family is hard on us all at times, but we are trying to arrange things so that we can all spend time together. Thank you to all of our friends and family who have come to visit Emma at Madonna and have brought us some good food. We appreciate it more than you know.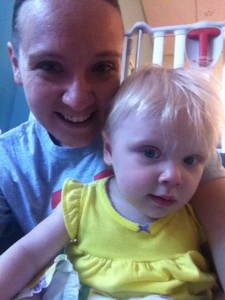 Madonna has given us the opportunity to meet some new families that are going through amazingly difficult situations as well. It has been really nice getting to know Sage and Connor's families and to hear their stories of dealing with brain tumors. We got to stop and see Maddie today who was admitted to Madonna as well.
This Saturday was the Emma Strong 5K Run/Walk in Kearney that some of our amazing friends organized. It was a fabulous event and a great day. We were so sad that we couldn't bring Emma with us, but were thankful for Grandpa and Grandma who came and stayed with her so Brent, Aiden and I could all attend. The run/walk was an 80's theme and very fun. It was once again so amazing to see such awesome support of Emma and our family from so many friends as well as so many people that we haven't met. This support is truly amazing and continues to give us strength. I of course had a great time visiting with old friends and running. Brent had planned to push Aiden for the run, but instead Aiden decided he would run almost 2 of the 3.1 miles. We may have a runner on our hands!! Brent, Aiden and I had the opportunity to spend the afternoon and evening with friends from grad school, and it was a nice treat to spend time with them and have the opportunity to relax for a few hours. It was a wonderful evening with great friends! We want to say a special thank you to Matt and Casey Kenny, and Ryan and Megan Smith for all of your hard work in organizing the run/walk. It was a great event and you did an amazing job. We feel so blessed to have such amazing friends who continue to give us so much support. We love you guys! Pictures will be coming soon. If you are friends with Brent on Facebook feel free to check there.
We continue to be thankful for all of the support we receive from so many people. It helps to keep us strong as we continue on this journey with our sweet Emma. She continues to show us everyday that she is a fighter and that she is Emma Strong!!!