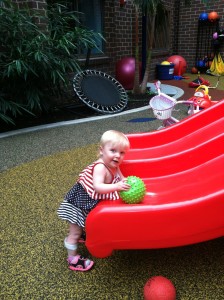 Happy 4th of July to all of our EmmaStrong followers from our little firecracker Emma! We hope everyone had a safe and relaxing holiday weekend.
Emma continues to work hard and make small gains at Madonna. She is slowly but surely getting stronger and we are starting to see gains. We will be here at Madonna until Friday and then we are headed home! The staff here at Madonna have taken such good care of Emma and the therapists have done a great job. We have also really enjoyed getting to know many of the families here. Emma can now stand longer with her AFOs on and is initiating steps on her own. She walked 66 feet with support (someone holding onto her waist and giving gentle cues if she doesn't initiate the step) last week. She now stands with support without crying and stands much straighter. She still hates to be on her hands and knees and needs hand over hand assistance to crawl, but she is improving at staying up on all fours. Emma has worked a lot on trying to improve her ability to move from sitting to crawling position, laying to sitting, and on standing up. She is unable to do these by herself yet, but is getting stronger and closer to doing it herself. She also is doing better at using her left arm for big movements. We are hoping her last week here will show a few more improvements.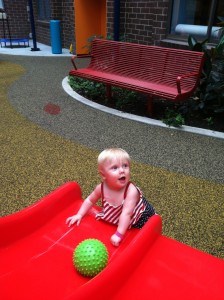 Emma went back to chemo on Tuesday and did well. Her counts looked good and Dr. A. thought she looked great (and stronger). She made it through chemo without any complications, which was great. We even got to stop at home and have dinner together as a family before we had to take her back to Madonna. Emma had a great day Wednesday and seemed to feel good, but had a harder time on Thursday. She got sick and threw up for the first time during PT on the 4th of July. It broke my heart to watch her be sick and scared. She didn't eat and drink well Thursday or Friday and just didn't seem to feel the best, but she is eating better this weekend and seems to be back to her normal happy self. We had planned to take Emma with us to our friends, Sara and Luke's house, for a little 4th of July celebration, but unfortunately since she was sick Emma and Mommy stayed at Madonna and Daddy and Aiden went and had fun. Hopefully this being sick on the holidays doesn't become a habit (first Easter, now 4th of July).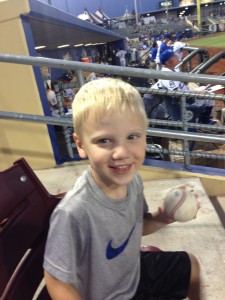 (Aiden at a Storm Chaser's game with Brent)
Thank you to everyone who continues to pray for our sweet Emma and to everyone who continues to give us support as we continue on this journey.
As promised on the last post, here are some pictures from the 5K in Kearney in a few weeks ago. What a great weekend with great friends!