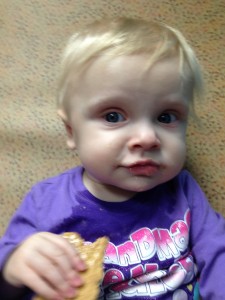 It has been awhile since we updated everyone on here, so I guess we have lots to fill you all in on. The last two weeks have been a little crazy because Brent was gone to Atlanta for a conference two weeks ago, and was gone to Anaheim, California last week for National DECA. Luckily Emma has been pretty good the last two weeks and we haven't had any unexpected trips to the hospital. Emma continues to be her happy self and is excited when it is nice enough to go outside and play. She has been going to PT and OT and continues to make progress in some areas. She is now sitting pretty well by herself, which is a big milestone to reach! Grandpa Alt took her to chemo two weeks ago and Grandma Alt took her last week. We are so thankful for our parents' help in taking Emma to chemo and coming to watch her when we need help. Grandpa and Grandma Gehring were both here last week too.
Emma's counts have been good at chemo the last few weeks. The blood transfusion she had a few weeks ago really perked her back up. She has been eating her milk really well, and has been much happier since. Last week she gave Grandma a little scare at chemo. She had an allergic reaction to her carboplatin during chemo, and broke out in hives. The nurses and doctors in the infusion clinic acted quickly and got her steroids and Benadryl immediately, and she began to clear up quickly. I was a little panicked when the hospital called in the middle of NeSA testing at school, but Emma was doing fine and all cleared up by the time she got home. Today is week 10 of chemo, which is the last one of the first phase. Mom finally got to bring her for a whole day of chemo. She has currently had her entire dose of Carboplatin today, and no reaction yet. Since she had the reaction last week she now has to have Benadryl and steroids before chemo each week, and they are going to run the drug over two hours instead of one. This means that each chemo trip will take a little longer. Today marks the last treatment of the induction phase of her chemo. Emma will now have two weeks off with no chemo, which we are all looking forward too. She has her next MRI on May 14th to see how things are going in regards to the chemo's effectiveness and to see if the tumor has grown or stayed the same. Needless to say, we are all a little nervous about what the results of the MRI will bring. We are praying daily for a good report from the MRI. Emma will start her maintenance phase of chemo on May 21st, which means she will have 8 cycles where she has 4 weeks of chemo and then a two week break. We are looking forward to the shorter cycles of chemo instead of the long induction phase.
We continued to be overwhelmed by the support being sent our way. Two weeks ago Alice's Cedar Inn in Creston graciously hosted an Emma Strong night donating a percentage of the profits to Emma Strong, and the Theilen family hosed a Scentsy party for Emma as well. We were so sad that we couldn't be there. We heard there was an amazing turn out, and a pretty good time. We would like to thank both Alice and Randee for all of their work and generosity to support Emma. We would also like to thank every one who took time to come out to Creston that night to support our family. Your support is so uplifting to us. Brent and his family are very lucky to be a part of such a great community!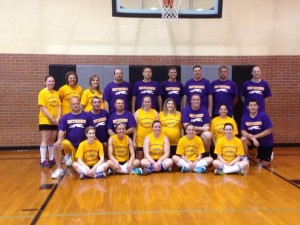 This last weekend the community of Hildreth hosted Greyhounds for Gehrings to help support our family. What an amazing event! There was so much work put into this great event. The day featured a basketball game between the 1992 Boys State Championship team that my Dad coached and the 1998 Girls State Championship team, which I played on. Even though those of us that played in the game may not be in the shape we used to be, it was a great time. I had a wonderful time playing with my teammates again. I think it is safe to say all of us that played in the game had a great time! There was also a silent auction and live auction during halftime of the game, and a meal served by MBR. It was great to have all of the Greyhound fans together again. I was completely overwhelmed by the tremendous support of my home town. I've known for a long time that Hildreth is a special place with very special people, and this is just one more example of why that is. I am so proud to say I am from Hildreth! It was so wonderful to see so many people that I haven't seen in such a long time. The day went so quickly that I don't feel like there was enough time to talk to everyone. The Alt and Gehring families cannot thank everyone enough for coming to the event and all of your support. I also want to say a special thank you to everyone who helped to plan the day, helped work on Saturday, and to those who played in the game. Words cannot express how much this event and your support mean to us!!