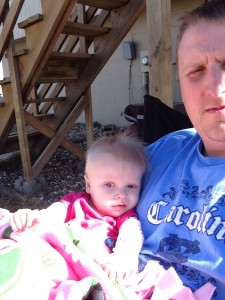 It has been another interesting week in the life of the Gehring's as Emma has been up at the hospital three days in a row. Monday Emma decided that she didn't want to eat very much and then topped it all off with a 101.6 temperature at 8:30 p.m. As we do every time she gets a temperature Kathryn and I headed up to the ER with Emma. In true Emma form her temperature was almost completely gone two hours later but we still got to sit in the ER for 3 or 4 hours while they tested her blood and checked for infection. Because of the temperature the doctors decided that they would give Emma a dose of antibiotic that took 30 minutes to administer. Other then the fact that it happened very late at night for us, it was a pretty painless experience with wonderful doctors and nurses throughout the trip. They didn't find anything wrong in the blood work so around 12:30 a.m. we got to head home for some sleep.
After a couple hours at home Kathryn and Emma headed back up to Children's. We foolishly planned on Emma getting her chemo just like normal, but were informed that she couldn't have it because of the temperature the day before. The worst part was not only did Kathryn take the day off but Rich had taken the day as well so that he could see the chemotherapy process before he takes Emma by himself next week. I guess at least he got to see how the first couple parts of the process will go.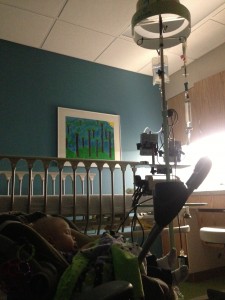 This change in plans meant that I got to take Wednesday off in order for Emma to get her chemo. When they got the blood tests back this morning, they found that Emma's hemoglobin count has consistently dropping which could be causing her lack of hunger as well as causing her to not sleep as well at night. The good news is that the check-in, blood tests, and chemo went faster than normal. The bad news is that the blood transfusion that is just starting will take two hours as well. Hopefully it will help Emma be more comfortable.
It quickly reminded me how important the donation of blood is for people going through long term health issues. I guess this just gives me another thing to be passionate about. I did find out today that Emma has a blood type of A+ which is the same as me. I will make sure to donate blood whenever I can and hope that you will as well. Thank you to those people that donate regularly and to those that never have please consider giving it a try.
It has been awesome watching the support Team Jack has gotten throughout the past few days. The Hofmann family and University of Nebraska Football team continue to spread awareness for Pediatric Brain Tumor research which will only help in all of our fights. It is unreal the press that has been dedicated to Pediatric Brain Tumors the past few weeks. Keep it up.
For the first time outside of asking for prayers I would like to ask everyone out there to consider taking time on June 1st to join us for the CureSearch walk that will take place at Village Pointe starting at 8:00 a.m. The address you need to register is http://www.curesearchwalk.org/faf/home/default.asp?ievent=1039005. As you go through the registration process please consider joining Emma's team "Team EmmaStrong" it will be about a third of the way down the list of teams. I set a goal of 100 people being on Emma's team and currently I am doing a poor job recruiting people to join me. $10.00 to have a chance to walk with Emma is definitely worth it.