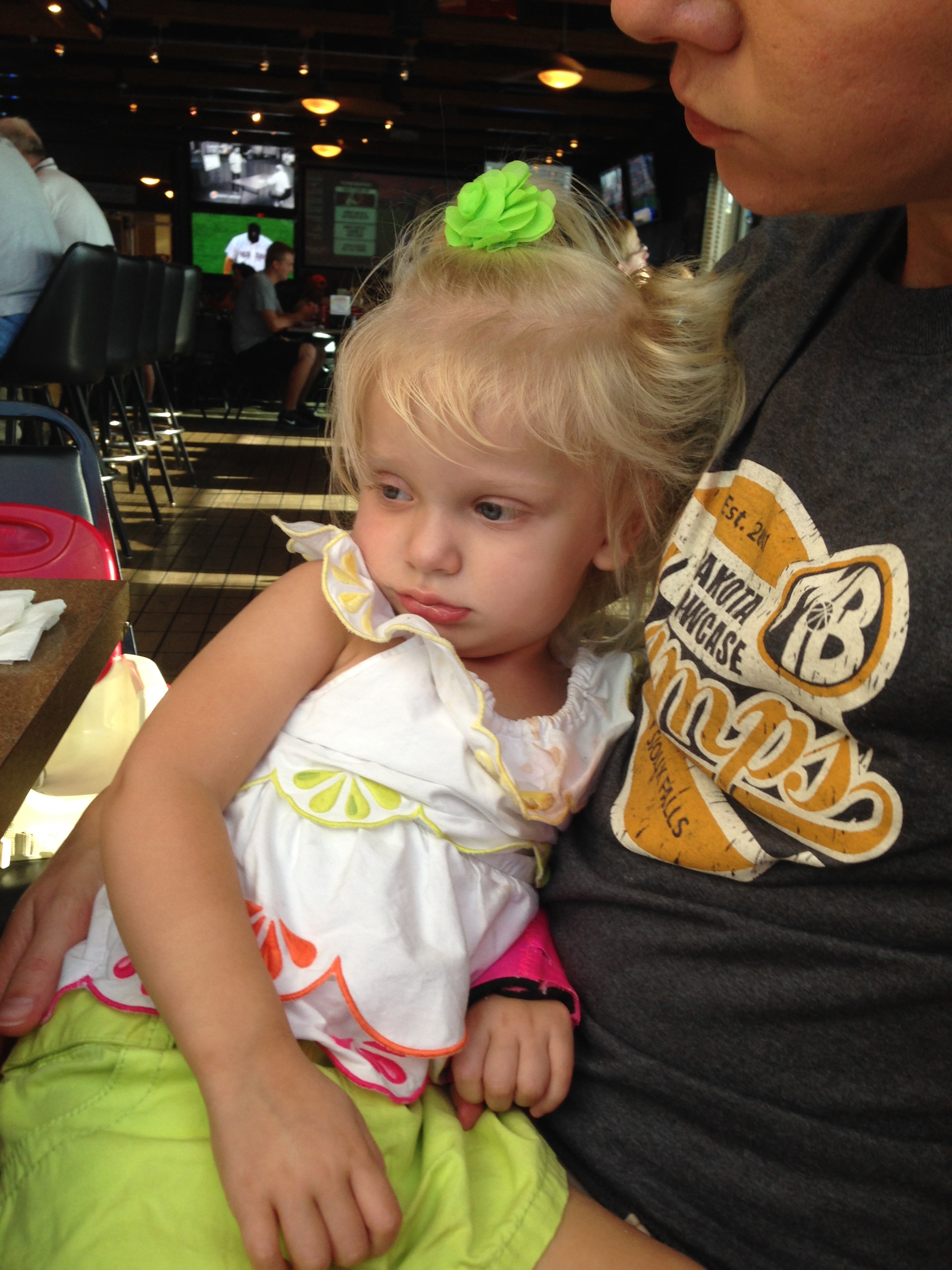 I guess it is finally time I get this update done. I have been putting it off because I was hoping I would eventually have better news to report. We have been home from Boston a little over a week now. Emma made the trip back fairly well, and all of us were thrilled to be home with Aiden and the rest of our family members. Thank you to everyone for their thoughts and prayers during Emma's surgery and our time in Boston. Thank you also to all of our friends who brought meals last week and helped to get us settled in at home again. We appreciate this more than you know!
Initially, Emma seemed to be slowly improving each day after surgery; however, after last Monday it didn't seem like she was progressing anymore. Over the last week we have noticed that Emma has been very tight. Her left leg and arm have been extremely tight, and even her right leg has been tight. She also isn't able to sit by herself again, and continues to push herself backward when we try to make her sit up. Emma also has had a lot of tremors in her left arm and even some in her right hand. Her coordination to feed herself with right hand has even been difficult. She hasn't been eating and drinking well and continues to act as if she is still in pain. Emma continues to say "ouchie" and point to her head and tummy several times a day. She also has been having a hard time resting well.
After watching all of this for a few days, we called Boston to see if this was "normal" behavior after a shunt surgery. The doctors in Boston wanted Emma to be seen by her doctor here and said if the doctors here were concerned, they would like a brain MRI done. Emma was scheduled for a clinic visit to start chemo last Thursday, so we went in and her doctors were concerned. Emma couldn't have an MRI that day because she had eaten, so they did a CT scan to get some initial information. First the radiologist thought that compared to the rapid MRI scans post surgery that her ventricles had grown, which could mean the shunt wasn't working so they called the neurosurgeons here in Omaha to look at Emma. They sent up a neurosurgery resident, who also looked at her scans and she felt that the ventricles were still a similar size (not sure how either came to the conclusion, since we are told you can't compare CT Scans to MRI's). Her recommendation was to open the shunt one more setting and see if having more fluid flow down the shunt would relieve some more pressure and help Emma feel better. She wasn't sure that this would improve her symptoms, but didn't think she would need an MRI. Her diagnosis was something along the lines of, if this doesn't help the symptoms would get worse (Again, not exactly what we were looking for). She said that her symptoms could also be related to tumor growth. So they decided not to do chemo Thursday, since we weren't sure what was going on with the shunt and sent us home. After talking with Dr. G. in Boston again on Friday, she said she was "ok" with seeing how Emma did over the weekend, but said she needed an MRI if she hadn't improved by today.
Unfortunately, Emma hasn't shown much improvement. She doesn't look very good and doesn't want to do much except lay on the couch. It is absolutely heartbreaking to watch her struggle like this. I feel so helpless to do anything to help her feel better. After a phone call on Sunday up to the hospital Dr. Abromowitch ordered an MRI, so Emma will have one done early tomorrow morning. Please send extra prayers for our sweet Emma. We are scared to death that this ugly tumor has again grown and may be causing these problems. We hope that isn't the case, but it is unfortunately a very real possibility. These last few weeks have been a horrible reminder of again how quickly this disease can change our lives.
Thank you in advance to all of our prayer warriors for you prayers for positive news and strength tomorrow as Emma undergoes her MRI and we await results. Your love and support mean the world to us. We are praying for a miracle of clean scans, but would be more than happy with answers as to what is next. This period of not knowing what is wrong and what is next is excruciating. EmmaStrong!!