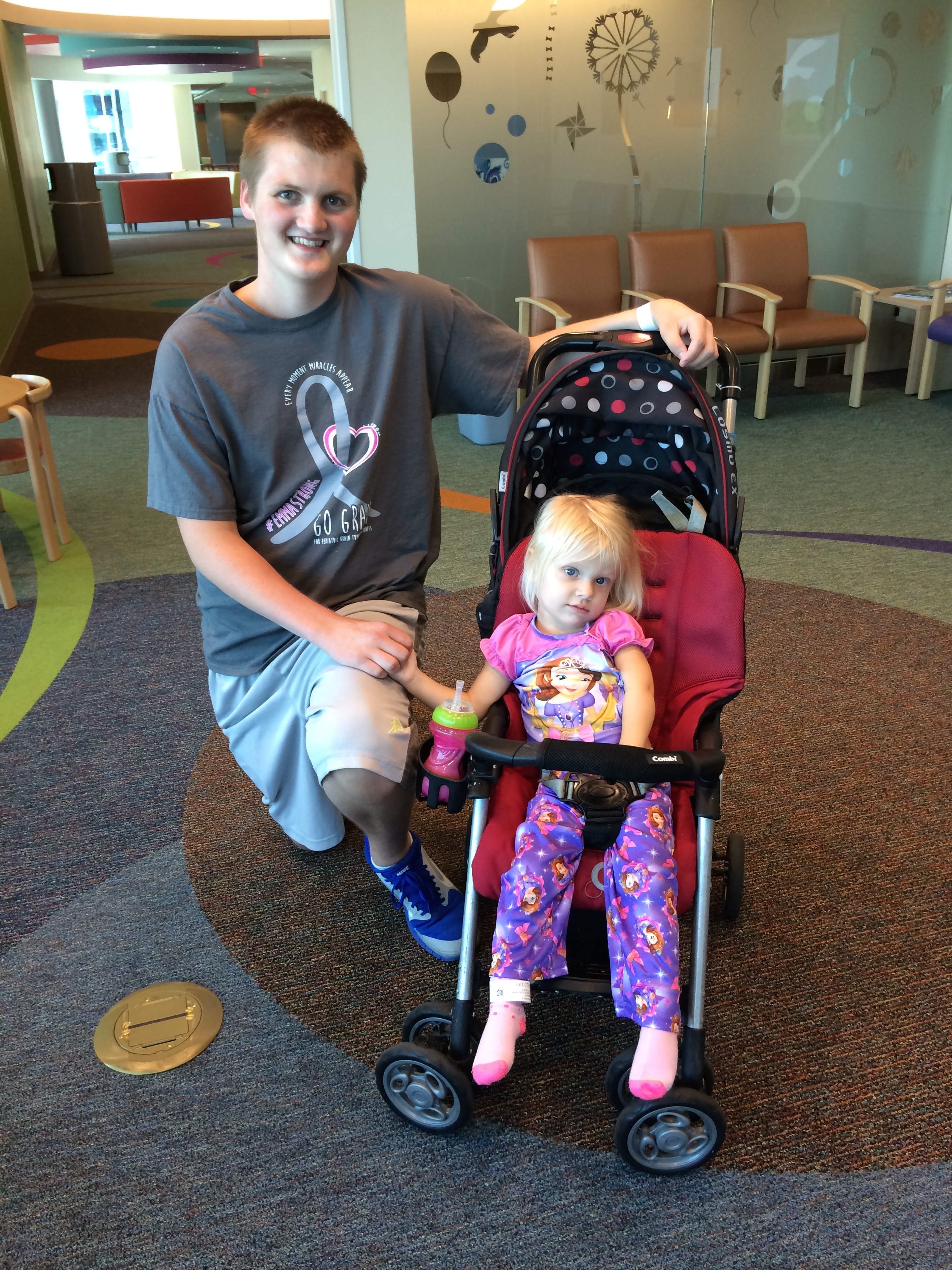 Thank you to everyone for all of your prayers and kind messages today for Emma! We appreciate it more than you know, and it really does help us to get through these tough days!
Emma had an early morning scan and handled the scan and anesthesia well. Once again we had great nurses today at the CARES unit and are so thankful that they take such good care of Emma. We met with Dr. Abromowitch this afternoon to get the results of the MRI. Today's scans showed that the tumor appeared to be similar in size to the scans we had in Boston in July. This is the generally "good news." However, we still have to remember that the tumor has grown in the last few months, which is what has caused the extra pressure on her ventricles. The scans also showed that Emma's ventricles appear to be similar in size to what they were on the scans in July. This is the part that is somewhat puzzling to them. Since the scans in July, Emma has had a shunt placed which should have relieved the pressure causing her ventricles to look smaller. This unfortunately is not the case. We then of course questioned if the shunt was working appropriately. Her ventricles aren't any bigger though, which indicates that the shunt is doing something. So overall, Dr. Abromowitch is puzzled and isn't sure why Emma is presenting with all of these different symptoms.
We had Emma's scans overnighted to Boston so that Dr Goumnerova can look at them too. We are hoping to hear something from her in the next few days. They have tumor board on Thursday morning, so we are hoping they will be able to look at her case then and hopefully find some answers and make a plan.
We have lots of mixed emotions and still plenty of anxiety tonight. While we were relieved to hear the tumor hasn't grown a lot, we realize that it has still grown over the last few months and could still be contributing to these issues. This also means that a resection could still be a very real possibility in the near future. We also have to remember that Emma's scans were done on two different machines, which can also complicate comparing them. We are still very worried about Emma, and wish we could have gotten more answers as to why the fluid doesn't seem to have resolved like they would have expected. It is such a horrible feeling of helplessness to sit and listen to the doctors say they aren't sure when all you want is to find out what is going on so we can help Emma get better. It is just so hard to watch her struggle like this. We are praying for Emma to continue to heal and recover each day, and for answers to our many questions in the next few days.
We were excited to see our friends the Ostranders today at the hospital. Their son Seth is a fellow brain tumor warrior and has been one of Emma's buddies from chemo, almost from the beginning. Seth also had an MRI scan today, so we enjoyed passing the time this morning during scans with them. We were even more excited to see them again in clinic this afternoon and hear that Seth's scans were stable today!!! Seth finished chemo this summer and these were his first scans since finishing treatment, so this was a really stressful scan for them. If you get a chance stop by his Facebook page "Seth is SO Strong" and give him some well wishes.The Nebraska pediatric brain tumor warriors were due for some good news! Seth is so sweet with Emma. They are even holding hands in the picture at the top of the post. So sweet!! You can't create a moment like that even if you tried. It's crazy how much these kids fighting life threatening diseases just look at each other with such love and support. I wish we could also post the picture of Emma looking up at Seth.
Prayers also go out to the Hoffman family as Bri and Jack head out to Boston to start his new treatment. Hang in there Hoffman's, we are praying for you.
Thank you for all of your continued prayers and support as we wait and continue to try and figure out what is going on with Miss Emma. It means so much to us! We WILL get through this.